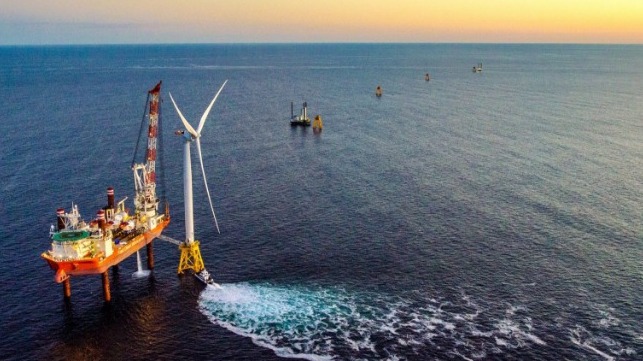 We currently have five wind turbines installed off the coast of Block Island amounting to our entire "offshore" wind generation. There is a "pipeline" to build out 24,564 MW of new offshore wind across 13 states. While this sounds HUGE, let's try and convert some of these outlandish sounding numbers into something we can all understand.
The total electricity production in the US for 2017 was 3.82 TRILLION kw/h from all sources. That was divided up between Coal 33%, Gas 33%, Nuclear 20%, and Hydro 6%. That equals 92% of our energy base.
The renewables Wind 5%, Biomass 2%, Solar .7%, Geothermal . 4% and Others .2% make up the other 8%.
As they call it, "The pipeline" for new offshore wind development proposes 25,464 MW (which is 25,464,000 kw) of offshore capacity across 13 states, probably costing into the TRILLIONS of dollars. While that sounds like a lot of energy, it is measured in CAPACITY, not actual production. The normal production for land based wind turbines is normally between 25 to 30% of its capacity as the wind NEVER blows ALL the time. Offshore wind may be a little better, but it too will NEVER be 100% of its capacity, and losses of energy through long undersea cables is significant. Even if this "new" capacity was to provide at its nameplate value, it is a drop in the bucket compared to the annual consumption of the USA. 25,000,000 compared to 3,820,000,000,000. That amounts to 0.0000065 % of our needs even if all the turbines produce 100% 24/7/365, and they don't.
Wind and solar to replace electricity production in the US is a disaster waiting to happen. I really want to know what the cost of building all these offshore turbines will cost and what the cost of the electricity will be to the consumer. It will break our bank and our grid. It is purely designed to take money from projects we really need. We have to stop this lunacy now!
https://www.maritime-executive.com/article/u-s-wind-energy-prices-c...