They are at it again. They have found a new reason to manipulate the dataset for their bogus AGW Climate Models.
"Correcting for problems caused by the decaying of satellites." Yup. We've all been there haven't we? One minute you're heading innocently down Highway One to look at the cute sea otters, the next you've somehow strayed over the Niagara Falls. Your stupid satnav failed to take those pesky "problems caused by the decaying of satellites" into account. And until now, no scientist was clever enough to notice…
But as Tony Heller points out there are several good reasons why there's a distinctive rat-like smell about the whole enterprise.
One is that this exactly what Heller predicted two years ago would happen:
Look for the satellite data to be adjusted to bring it into compliance with the fully fraudulent surface temperatures. The Guardian is now working to discredit UAH, so it seems likely that RSS will soon be making big changes – to match the needs of the climate mafia. Bookmark this post.
UAH, by the way, refers to University of Alabama, Huntsville – which is the only other satellite temperature gatekeeper (and, as of this week, the only credible one) in the world run by two skeptics John Christy and Roy Spencer. The reason they are skeptics is because the data they maintain gives them good reason to be skeptical: viz, while the (heavily-adjusted) surface temperature data sets show dramatic warming, their (more reliable) satellite data does not.
Marvel for yourself at the divergence: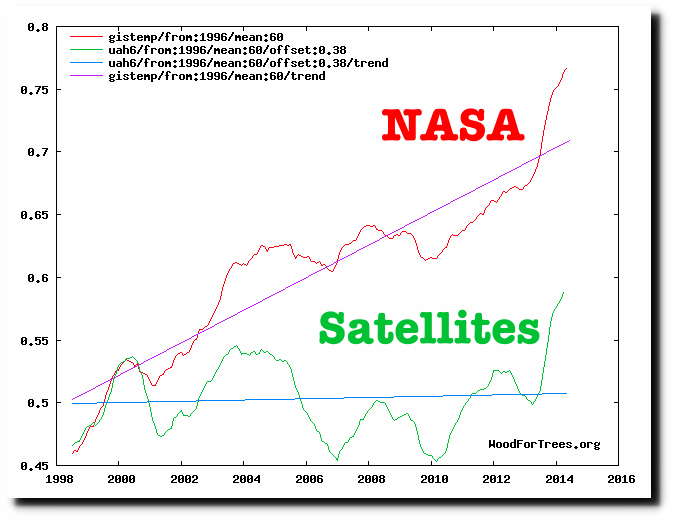 A principle of the scientific process is that 'when data contradict the model, go with the data.' It seems that the 'community formerly known as scientific' has changed this to 'when data contradict the model, adjust the data to agree.'
A scientist does not adjust data to the model, they can attempt to explain it and propose an adjusted interpretation, but the data itself should be presented with the interpretation.
http://www.breitbart.com/big-government/2017/07/05/delingpole-clima...