Radio Address: Refocusing Efficiency Maine Funds to Reduce Heating Costs for Mainers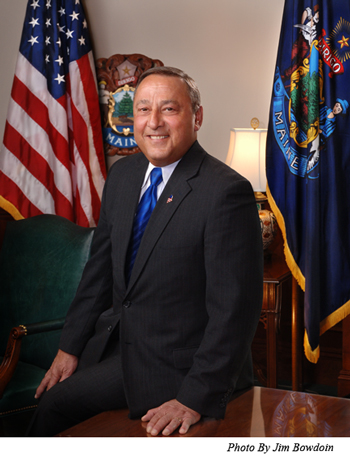 April 6, 2013
Hello. This is Governor Paul LePage.
My fellow Mainers, I told you about some disturbing news last week. You are paying considerably more than you should for electricity. This week, I have more bad news.
Supporters of more expensive energy are planning to double the fee that is added to your electric bill every month. This increase will fund Efficiency Maine, a program that offers cash and rebates to buy new light bulbs, weatherize homes and replace old appliances with energy-efficient models.
Efficiency Maine has been funded by federal stimulus money, a regional cap and trade program, and the System Benefits Charge, which is a fee added to your electric bill. This fee on your electric bill totals $13 million a year. Now that the stimulus money is gone, the new plan increases the System Benefits Charge to $30 million over three years. Average homeowners will pay $8 to $20 more a year to more to fund Efficiency Maine. Some say that this increase doesn't amount to much. But electric bills for industrial businesses will jump by more than $50,000 over the next three years. That's another slap in the face to our industrial companies, who are some of Maine's biggest employers.
Maine's energy costs are already the 10th highest in the nation, and are 34 percent higher than the national average. Our high energy costs already discourage new businesses from coming to Maine. Some companies have cited these costs as a major factor in their decision to move to other states with more affordable energy. This is a major reason the southeast is prospering.
Folks, in this economy, increasing electricity costs by even one penny is not prudent. The attitude in Augusta that raising taxes, increasing fees and spending more will solve our problems must stop. As long as I am your governor, I will fight any attempt to increase electricity costs on my fellow Mainers.
My administration has proposed a plan to target the biggest energy expense you have: heating your home. This week was the official conclusion of the heating season, and heating oil was the most expensive in our state's history. Instead of raising rates to buy light bulbs and new refrigerators, we must overhaul the mission of Efficiency Maine to reduce heating costs for Mainers. The national average for heating costs is $2,000, but Mainers spend well over $3,000 a year just to stay warm.
Rather than investing in curly-cue light bulbs, we want Efficiency Maine to provide $600 for any Mainer who wants to convert their heating sources to more cost-effective systems. These systems include heat pumps, wood pellet furnaces and natural gas systems and highly efficient oil burners.
In addition to helping Mainers reduce their heating costs, my plan would reduce electricity costs for businesses. Our businesses pay the 12th highest rates for electricity in the country. This makes it difficult to attract business and jobs to Maine, and it prevents existing businesses from investing and hiring more Maine people.
By eliminating the Systems Benefit Charge for industrial users we could cut costs by about $2 million for Maine's employers. This savings would allow businesses to expand and hire more Maine people.
In addition, we should redirect funding that we get from the Regional Greenhouse Gas Initiative, away from light bulbs. This funding should go toward helping Mainers convert to more affordable energy solutions and lower the cost of electricity for everyone.
Finally, we could also increase production of timber harvesting on state lands and use the added revenue to invest in affordable energy options like wood pellet systems.
My fellow Mainers, some of us want more affordable energy and lower heating costs. Let's invest your money where it will help you the most: your bottom line. In the dead of winter, which would you rather have: new light bulbs or a more efficient heating system? Think about it. As your Governor, you know what my answer is.
http://www.maine.gov/tools/whatsnew/index.php?topic=Gov_Radio_Addre...