This is one example calculated from scientific studies, using i-TREE software:
"The results of London's i-Tree Eco project are now available in a comprehensive report which details the significant benefits that trees provide one of the world's great cities. The study highlights the essential role that green infrastructure plays in providing ecosystem services and making London a vibrant place to live, visit and work. Recognizing the many contributions of the urban forest beyond intrinsic beauty provides baseline information and the foundation to improve planning and management of trees as assets to ensure benefits are received by future generations.
Here are a few of the ecosystem services and values provided by the approximate 8.4 million trees in London's urban forest: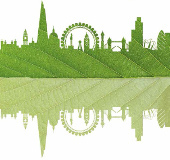 2.4 million tonnes of carbon stored valued at £146.9 million
77,000 tonnes of carbon sequestered annually valued at £4.79 million per yr.
2241 tonnes of pollution removed annually valued at £126.1 million per yr.
3.5 million cubic meters of avoided storm water runoff valued at £2.8 million per yr.
£260,600.0 per year of energy savings attributed to trees in relation to buildings"
Cut it down and the losses are significant.