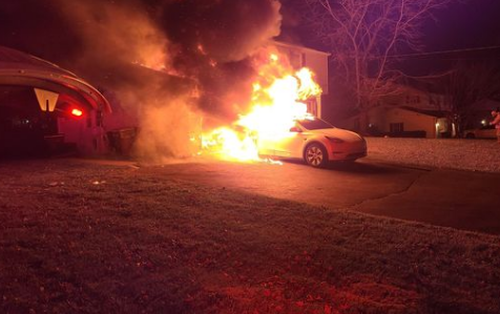 There was "extensive damage" to the vehicle and the house. Photos posted to the Fort Washington fire department's website show a car engulfed in flames. 
CBS later reported that the home was a "total loss" following the incident. 
It's the second incident of a Tesla catching fire in the Philadelphia suburbs this year. This summer, a Model S Plaid Tesla caught fire with the driver at the wheel. The driver's lawyer claimed the vehicle "burst into flames while the owner was driving" it. 
In other news, the NHTSA has yet to act on a wide ranging investigation it is performing into hundreds of thousands of Tesla vehicles, while the NTSB continues to warn consumers about safety issues related to the vehicles' autonomous driving features. 
The NHTSA said it had opened a formal investigation into Tesla's Model X, S, and 3 for model years 2014-2021. 
CHEVY BOLT CATCHES FIRE WHILE CHARGING ON DRIVEWAY IN VERMONT
https://www.windtaskforce.org/profiles/blogs/chevy-bolt-catches-fir...
THETFORD; July 2, 2021 — A fire destroyed a 2019 Chevy Bolt, 66 kWh battery, battery pack cost about $10,000, or 10000/66 = $152/kWh, EPA range 238 miles, owned by state Rep. Tim Briglin, D-Thetford, Chairman of the House Committee on Energy and Technology.
He had been driving back and forth from Thetford, VT, to Montpelier, VT, with his EV, about 100 miles via I-89
He had parked his 2019 Chevy Bolt on the driveway, throughout the winter, per GM recall of Chevy Bolts
He had plugged his EV into a 240-volt charger.
His battery was at about 10% charge at start of charging, at 8 PM, and he had charged it to 100% charge at 4 AM; 8 hours of charging.
Charging over such a wide range is detrimental for the battery. However, it is required for "range-driving", i.e., making long trips. See Note
NOTE: Range-driving is not recommended, except on rare occasions, as it would 1) pre-maturely age/damage the battery, 2) reduce range sooner, 3) increase charging loss, and 4) increase kWh/mile.
Charging at 32F or less
Li-ions would plate out on the anode each time when charging, especially when such charging occurred at battery temperatures of 32F or less.
Here is an excellent explanation regarding charging at 32F or less.
https://electronics.stackexchange.com/questions/263036/why-charging...
Fire in Driveway: Firefighters were called to Briglin's house on Tucker Hill Road, around 9 AM Thursday.
Investigators from the Vermont Department of Public Safety Fire and Explosion Investigation Unit determined:
1) The fire started in a compartment in the back of the passenger's side of the vehicle
2) It was likely due to an "electrical failure". See Note
NOTE: Actually, it likely was one or more battery cells shorting out, which creates heat, which burns nearby items, which creates a fire that is very hard to extinguish. See Appendix
https://www.vnews.com/Firefighters-put-out-blaze-in-car-of-Vt-State...
https://www.engadget.com/gm-chevy-bolt-fire-warning-215322969.html
https://electrek.co/2020/11/13/gm-recall-chevy-bolt-evs-potential-f...
GM Recall of Chevy Bolts: In 2020, GM issued a worldwide recall of 68,667 Chevy Bolts, all 2017, 2018 and 2019 models, plus, in 2021, a recall for another 73,000 Bolts, all 2020, 2021, and 2022 models.
GM set aside $1.8 BILLION to replace battery modules, or 1.8 BILLION/(68,667 + 73,000) = $12,706/EV.
https://insideevs.com/news/524712/chevrolet-bolt-battery-recall-cost/
https://thehill.com/policy/transportation/568817-gm-expands-bolt-ev...
Owners were advised not to charge them in a garage, and not to leave them unattended while charging, which may take up to 8 hours; what a nuisance!
I wonder what could happen during rush hour traffic, or in a parking garage, or at a shopping mall, etc.
Rep. Briglin heeded the GM recall by not charging in his garage. See URLs
https://www.ericpetersautos.com/2021/09/16/electric-social-distancing/
https://www.windtaskforce.org/profiles/blogs/some-ne-state-governme...
NOTE:
- Cost of replacing the battery packs of 80,000 Hyundai Konas was estimated at $900 million, about $11,000 per vehicle
https://insideevs.com/news/492167/reports-lg-chem-cost-hyundai-batt...
- EV batteries should be charged from 20 to 80%, to achieve minimal degradation and long life, plus the charging loss is minimal in that range
- Charging EVs from 0 to 20% charge, and from 80 to 100% charge:
1) Uses more kWh AC from the wall outlet per kWh DC charged into the battery, and
2) Is detrimental to the battery.
3) Requires additional kWh for cooling the battery while charging.