Nuclear Power Poised for Boom in US but Industry Says Regulatory Reform Needed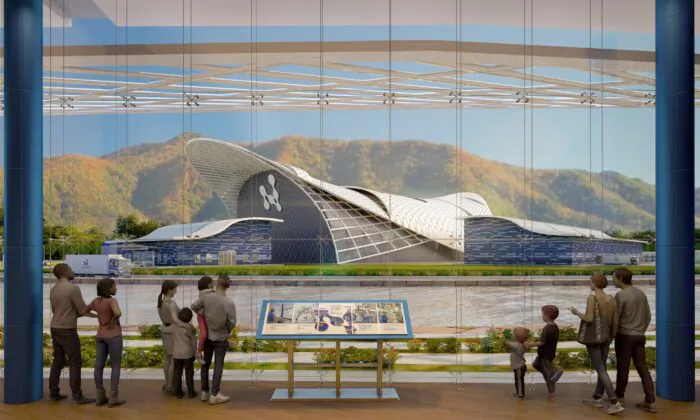 Private fund managers and venture capitalists in 2022 invested more than $5 billion in nuclear power companies in the United States, where the industry is poised to build "hundreds of new reactors," double its electrical output, and triple its workforce to meet a projected 50-percent increase in energy demand by 2050.
It's all very exciting, Nuclear Energy Institute (NEI) President and CEO Maria Korsnick said during a "State of the Industry" address to open NEI's annual Nuclear Energy Assembly on May 15 in Washington.
"People want clean energy. Businesses are demanding versatile technologies while reducing their carbon footprint. State and congressional lawmakers and regulators want energy options … to decarbonize grid and strengthen energy security," she said. "And when you add all of that up, these demands all point to one place—nuclear carbon-free energy."
Investors, induced by tax incentives in 2021's Bipartisan Infrastructure Law (BIL) and 2022's Inflation Reduction Act (IRA), are seeing how the future is bright for nuclear energy, Korsnick said.
"We are not just talking about one or two projects, we're talking about demand for hundreds of reactors," she said. "This is a once-in-a-generation moment. The demand for nuclear defines the current moment and it is just beginning to shape our future."
The three-day conference, which draws nuclear industry representatives and regulators from around the world, included an opening-day discussion with U.S. Department of Energy (DOE) Under Secretary David Turk and a luncheon address by Tennessee Gov. Bill Lee. Unlike Korsnick's address, they were not live-streamed.
Among speakers and presentations set for May 16 is a morning discussion by House Energy and Commerce Committee Chair Rep. Cathy McMorris Rodgers (R-Wash.).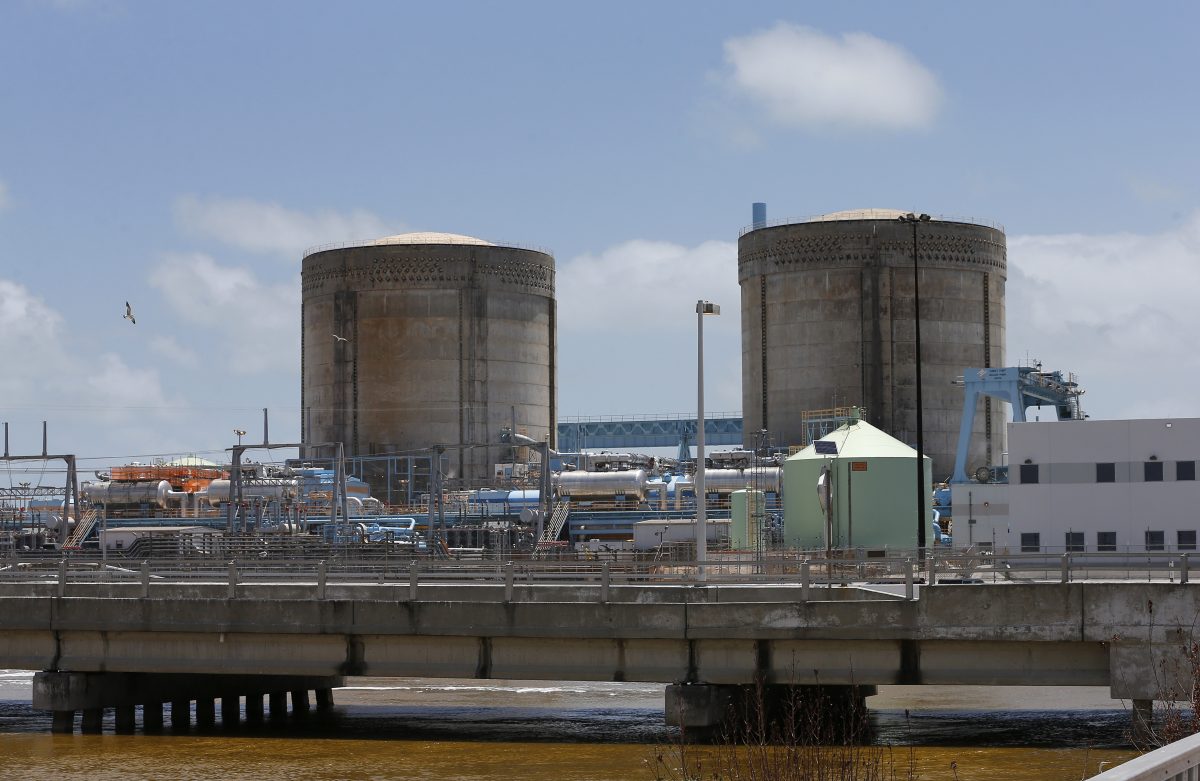 Turkey Point Nuclear Reactor Building in Homestead, Florida. (RHONA WISE/AFP/Getty Images)
Regulatory Morass Threatens Momentum
"This isn't just a shift in the conservation about energy," Korsnick said. "For years, many have talked about nuclear as a solution to the climate crisis, but what we are seeing now is unprecedented action across the economy to meet this demand. We are seeing it in state capitols, small towns, private investment portfolios, and public utility partnerships, in places with retired coal plants."
But the industry's momentum could be stalled by regulatory morass, she warned, with license renewals taking on average 18 to 22 months and new plant proposals taking at least 40,000 hours "and counting" to secure site permits and break ground.
"To meet demand, we'll need a much faster regulatory process for advanced reactors without sacrificing safety," Korsnick said. "I'll be blunt. If we're serious about decarbonizing and meeting our climate goals, the NRC (Nuclear Regulatory Commission) must get serious about modernizing its processes because the road to a clean energy future rolls right through our regulator. It's that simple."
Without the regulatory reform outlined in several bills circulating about Congress, including House Republicans' House Bill 1, the nuclear industry will not be able to ramp up quickly enough to be an option in many areas of the country.
"If nothing changes, the industry will not be able to meet demand," Korsnick said. "The lack of efficiency leads to excessive costs, lack of predictability, and it's going to hinder deployment. This stands in the way of the commitments and the private investment that we need to meet demand."
While NEI is pleased that the NRC has issued final approval of a new type of reactor by NuScale, "it took 6 years to move it through the process. Six years," she said.
"You need to get serious about permit applications because, unfortunately, it takes too much time today for those applications to be reviewed and approved," Korsnick said, noting the DOE expects new reactors in the 2030s to generate an additional 13 gigawatts of electrical energy a year.
"This means NRC will start to see large-scale project permits, construction permits, and licensing applications in the coming years," she said, including 15 proposals "that are in application or reapplication engagement with the NRC."
"So, now is the time to modernize processes so that the regulatory approvals do not unnecessarily slow the progress," she continued. "There is no question that demand will last. The only question now is how long will it take us to meet it? We need a modern streamlined regulatory process that maintains that gold standard of safety that paves the way for new builds at scale."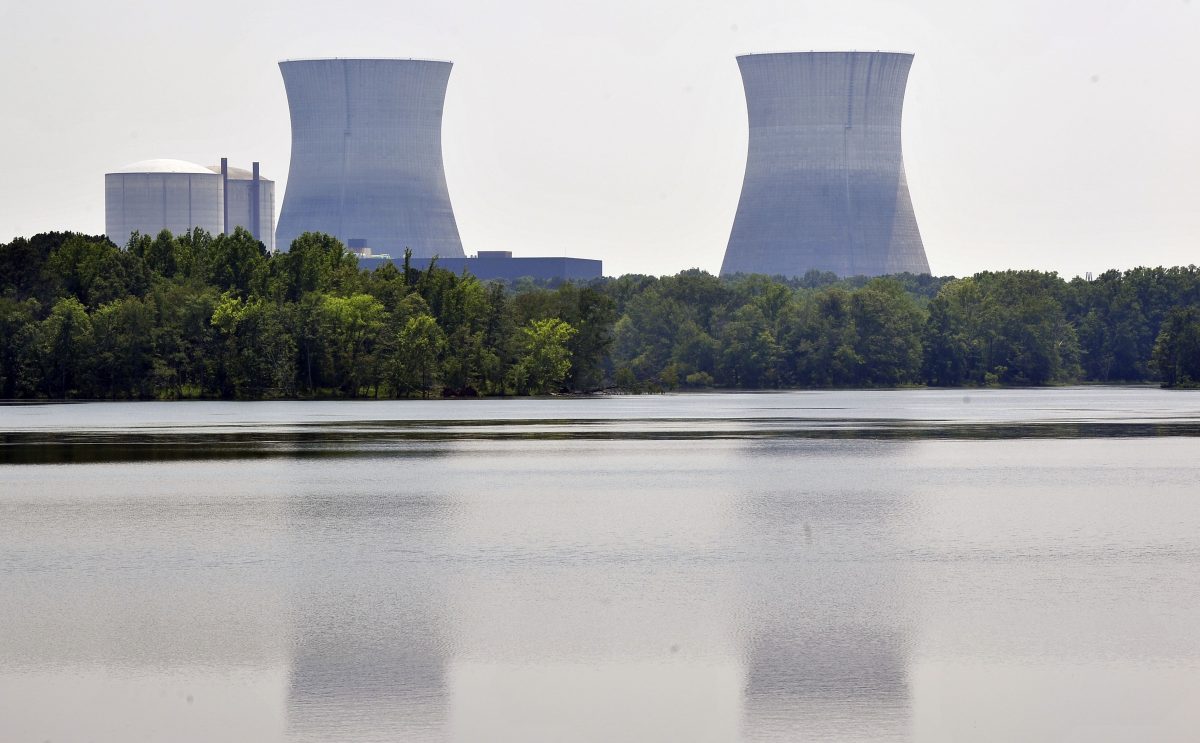 The Tennessee Valley Authority's Bellefonte Nuclear Plant site in Hollywood, Alabama. (AP Photo/Eric Schultz)
Supply Chain, Workforce Worries
The industry needs to affirm supply lines and build a workforce, Korsnick said.
"It is critical that companies throughout the nuclear supply chain see the opportunity and believe in the opportunity. We need companies to prepare today for the manufacturing capabilities needed to meet this demand, which really can't wait four, five years," she said.
"From the supply chain side, they need to see a signal. A sure way to signal confidence to them is by turning commitments for nuclear into orders for new projects—utilities, petrochemical plants, data centers. You need to move from consideration to commitment to contracts."
The DOE estimates the industry will need a 375,000-person workforce by 2050. "Wow," she said. "Our industry today directly employs about 100,000 people."
That 2050 workforce will need years of training, Korsnick said.
"Now these are engineers, operators, electricians, welders, pipe-fitters. We need to start today educating this workforce. We need apprenticeship programs and to expand the experience and expertise of those who will build and maintain the fleet," she said, calling on the industry to work with state and local school officials to support STEM programs.
Korsnick said among things federal and state governments can do to boost the industry is offering "tiered grants that can decrease after each successive deployment [and] cost overrun insurance."
Being the nation's largest energy consumer, the federal government can also find ways to switch to nuclear power "for a portion or all power generation to give utilities a sense of security to take that leap," she said.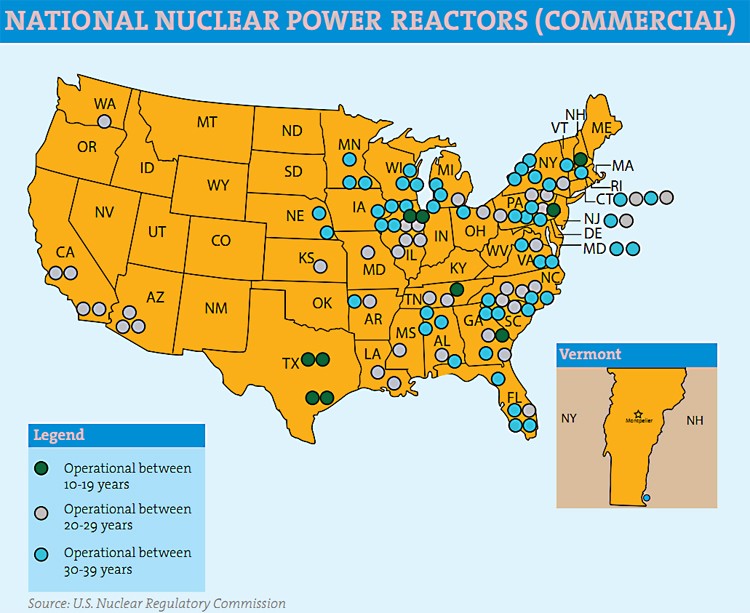 National Nuclear Power Reactors Map (U.S. Nuclear Regulatory Commission)
First Movers and Fast Followers
"With all the policy signals, demand, milestones, it's really no surprise that capital is flocking to nuclear." Korsnick said. "Altogether, we estimate that private investors have poured more than $5 billion into advanced nuclear companies last year. This capital is shifting in part because nuclear technology promises to decarbonize the entire economy."
Pelican Energy Partners has "pivoted from its fossil fuel portfolio and announced a new fund strategy dedicated to the nuclear industry," she said, adding that Morgan Stanley listed nuclear as "an ESG trend to follow" and BlackRock is considering a nuclear-themed investment security.
Within the industry, Korsnick said, X Energy is partnering with Dow Chemical to "power manufacturing along the Gulf Coast," Constellation's Nine Mile Plant in Oswego, New York, will be "the first-ever nuclear-powered hydrogen production facility in the nation," Shell and NuScale are partnering to develop a "hydrogen production concept, and NuCor, the nation's oldest and largest steel maker, "is investing millions in NuScale's efforts to build advanced nuclear."
She praised the companies for moving forward with "first-of-a-kind" projects and investors for seeing the opportunity, but said the real momentum will be determined by "fast followers," or companies and investors who quickly follow "first movers" in pursuing new technologies.
"From an investment perspective, first-of-a-kind projects are a little bit scary. But when you look at the long term, nuclear is one of the best bets there is," Korsnick said. "Building first-of-a-kind really takes courage. Making a commitment to be a fast follower without evidence of success, takes courage. So, let's be courageous, and let's find creative solutions to our challenges."
She expressed confidence that "challenges to large-scale deployment can be overcome, but it will take ingenuity. This is the biggest moment for nuclear energy since the dawn of the atomic age."