Earlier this week, an insider at the Internal Revenue Service (IRS) came forward and revealed his identity for the first time after filing an anonymous whistleblower complaint about the agency's handling of an investigation into Hunter Biden.
.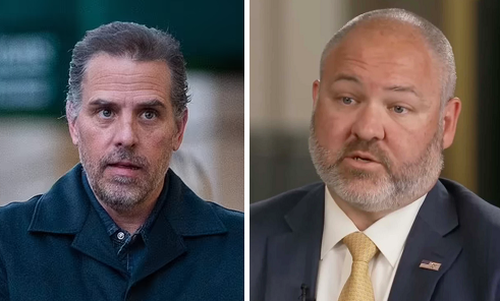 .
The original whistleblower complaint from Gary Shapley, a 14-year veteran of the agency, was revealed in an April 19 letter to members of Congress. Since then, Shapley and his attorney, Mark D. Lytle, have alleged retaliation.
In an interview with CBS News that aired Wednesday night, Shapley identified himself as an IRS supervisory agent, who says he was assigned to an investigation in January 2020 - the subject of which he said he couldn't legally identify due to tax secrecy laws, but which CBS said was the Hunter Biden case.
Shapley and his legal team are simply calling it an "ongoing and sensitive investigation of a high-profile, controversial subject."
Lytle says his client's disclosures contradict sworn testimony by a "senior political appointee," and involve "failure to mitigate clear conflicts of interest."
He added that the whistleblower disclosures show "examples of preferential treatment and politics improperly infecting decisions and protocols that would normally be followed by career law enforcement professionals in similar circumstances if the subject were not politically connected."
According to Shapley, "When I took control of this particular investigation, I immediately saw deviations from the normal process. It was way outside the norm of what I've experienced in the past."
In March, U.S. Attorney General Merrick Garland told the Senate Judiciary Committee that the U.S. Attorney in Delaware had full discretion in pursuing the Hunter Biden tax investigation and was "not restricted in his investigation in any way." Shapley, however, has claimed that, in his investigation, "there were multiple steps that were slow-walked—were just completely not done—at the direction of the Department of Justice."

Shapley said he had never experienced "deviations" from the investigative process like those he has seen in this case.

"And each and every time it seemed to always benefit the subject," he said. -Epoch Times
Shapley says he decided to file a whistleblower complaint following an Oct. 2022 meeting with federal prosecutors.
.
.
"It was my red-line meeting," he said. "I don't want to do any of this. I took an oath of office and when I saw the egregiousness of some of these things, it no longer became a choice for me," he told CBS News. "It's not something that I want to do. It's something I feel like I have to do."
.
.
Shapley has every reason not to want to do any of this.
After all, as President Joe Biden stated last year, "No one f–ks with a Biden."
For years, a Democrat-controlled Congress refused to investigate Biden family influence-peddling, and the press dismissed people raising Hunter's laptop as spreading "Russian disinformation."
The media have worked hard to minimize the blowback after acknowledging the laptop's authenticity and the growing evidence of millions in influence-peddling.
Part of this effort at "scandal implosion" has been to dismiss any criminal charges as relatively minor tax violations unconnected to the president.
Indeed, when the president recently agreed to a rare sit-down interview, the White House chose MSNBC's Stephanie Ruhle.
Before asking about his son Hunter's scandal, Ruhle emphasized it was "something personal" with "no ties to you."
Many of us guffawed at the claim given multiple references on the laptop to President Biden, including possibly sharing in the proceeds from influence-peddling with foreign governments.
The problem is Shapley suggests some uncomfortable questions on how Biden's administration may have worked to minimize charges against his son and, according to Shapley, "slow-walked" the investigation.
His interview explains why the Justice Department can indict figures like Rep. George Santos (R-NY) on a variety of fraud and money-laundering charges in a few months while spending years investigating Hunter Biden with no conclusion.
.
.
Shapley made clear he had never seen this level of interference in his long service at the IRS and said it was done "at the direction of the Department of Justice."
And he said the interference began as soon as he "took control of this particular investigation": "I immediately saw deviations from the normal process. It was way outside the norm of what I've experienced in the past."
Shapley did not rush forward or leak to the media.
Rather, after watching decision after decision made to benefit Biden, Shapley reached a breaking point in what he called his "red-line meeting" when he and his team were removed from investigating the president's son.
The interference came from a familiar source.
The Justice Department under Attorney General Merrick Garland has been criticized for his refusal to appoint a special counsel to investigate the expanding allegations of Biden family influence-peddling — which include possible criminal charges from bribery to tax violations to money-laundering.
The laptop included references to Joe Biden getting a 10% cut of one Chinese deal.
Biden associates are warned not to use Joe Biden's name but to employ code names like "the Big Guy."
At the same time, the president and first lady are said to have benefited from public office and received payments from Hunter.
The emails also contradict the president's repeated public declaration that he had no knowledge of his son's foreign dealings — including by photos with his business associates and an actual audio tape referring to the deals.
.
Garland refuses to appoint a special counsel who would then have the ability to write a report on the alleged massive influence-peddling operations the Bidens run.
It is all part of the "incredible shrinking Merrick Garland," who promised to prevent any political influence over his department.
We now have multiple whistleblowers alleging interference from the Justice Department to slow-walk investigations or shield the president's son.
We also have questions raised by IRS agents' visit to the home of Matt Taibbi, who helped expose the government-Twitter censorship program.
They appeared on the very day Taibbi appeared before Congress and was attacked by Democratic members as a "so-called journalist."
(The subcommittee's ranking Democrat, Delaware Stacey Plaskett, later called for Taibbi's possible arrest.)
.
The IRS opened its probe of him on a Saturday — Christmas Eve last year, just weeks after his exposé.
With the GOP controlling the House, there will now be congressional investigation and oversight into these allegations.
But Shapley and other whistleblowers will soon learn that when it comes to many in the media and Congress, they also "don't want to do any of this."
Jonathan Turley is an attorney and a professor at George Washington University Law School.