Germany's energy systems analysts have known for at least a decade:
1) Wind and solar are troublesome actors on the grid
2) They are too expensive for any industrial economy
Solar is very expensive on an "all-in" cost basis, shows up around midday, disturbs the grid, so the other electricity generators have to ramp up and down their outputs, to allow this short-time intruder onto the grid. After that disturbance, peace and quiet is restored to the grid, until the unruly intruder shows up again the next day; its output depending on 1) level of sunshine, 2) variable cloudiness, 3) snow and ice, and 4) the seasons. See table 1 and URLs
http://www.windtaskforce.org/profiles/blogs/cost-shifting-is-the-na...
https://www.windtaskforce.org/profiles/blogs/wind-and-solar-provide...
| | | | | | | | | | |
| --- | --- | --- | --- | --- | --- | --- | --- | --- | --- |
| Table 1/VT & NE sources | Paid to | Subsidy | Grid | GMP |  Added | ISO-NE | Total | NE | Times |
|   |   | paid to | support |   | to rate | RNS+ |   | utility |   |
| | owner | towner | cost | adder | base | FCM | cost | cost | |
| | c/kWh | c/kWh | c/kWh | c/kWh | c/kWh | c/kWh | c/kWh | c/kWh | |
| Solar, rooftop, net-metered, new | 17.4 | 5.2 | 2.1 | 3.5 | 20.9 | 1.6 | 29.8 | 7.6 | 3.92 |
| Solar, rooftop, net-metered, legacy | 18.2 | 5.4 | 2.1 | 3.5 | 21.7 | 1.6 | 30.8 | 7.6 | 4.05 |
| Solar, standard offer, combo | 11.0 | 6.74 | 2.1 | | 11.0 | 1.6 | 21.44 | 7.6 | 2.82 |
| Solar, standard offer, legacy | 21.7 | 10.5 | 2.1 | | 21.7 | 1.6 | 35.9 | 7.6 | 4.72 |
| Wind, ridge line, new | 8.5 | 3.9 | 2.4 | | 8.5 | 1.6 | 16.4 | 7.6 | 2.15 |
| Wind, offshore, new | 9.0 | 4.1 | 2.4 | | 9.0 | 1.6 | 17.1 | 7.6 | 2.25 |
A NEW WAY TO MAKE WIND AND SOLAR MORE ATTRACTIVE
Just create a massive shortage of oil, gas and coal, such as by means of a war, and their spot prices will go up, and wind and solar, supported by expensive batteries, etc., will FINALLY become attractive, even without HUGE subsidies.
Germany is using the Ukraine war as an excuse to keep nuclear plants in service for at least 10 years, because it will take that long to partially replace Russian pipeline gas with LNG
The LNG will sell at astronomical spot prices of $40 to $50/million Btu, vs US Spot prices at $5/million Btu.
Natural Gas Price in Europe Smashes All-time High
https://www.rt.com/business/551028-european-gas-price-soars/
.
European natural gas futures spiked above $2,200 per 1,000 cubic meters on Wednesday for the first time in market history. The escalating crisis between Russia and Ukraine has raised fears of supply shortages.
.
Because 1000 m3 contains 1000 x 35.315 ft3/m3 x 1000 Btu/ft3 = 35,315,000 Btu, the futures price becomes $2,200/35.315 million Btu = $62.30/million Btu, versus the US spot price at $4.5/million Btu
.
The April gas futures at the TTF hub in the Netherlands soared from around $1,500 to $2,226 per 1,000 cubic meters, or $213 per megawatt-hour (341,200 Btu) in household terms by 09:30 GMT, hitting an all-time high, data from the London ICE exchange shows.
.
The spike in prices follows sanctions placed on Russia by a number of Western states due to Moscow's military operation in Ukraine.
.
A huge increase in applications is raising the price by the minute, Kaushal Ramesh, senior analyst at Rystad Energy, told Vesti.
.
He said it had also been affected by fears of supply outages due to 1) possible damage to infrastructure in Ukraine, through which the majority of Russian gas is delivered to Europe, and 2) the possibility of supply restrictions on Russian oil and gas.
.
It looks like anything made in Europe will become very expensive, far more expensive than if that same product were made in the US.
.
The US/UK-led NATO, baiting Putin to start a war in Ukraine, is one way for the US to become more competitive in international markets, at the expense of Russia, and the EU, and everyone else.
.
THE UKRAINE PLOT IS THICKENING WITH GERMANY AND FRANCE BARELY IN LOCKSTEP WITH US/UK-LED NATO
https://www.windtaskforce.org/profiles/blogs/the-plot-is-thickening...
The gas shortage condition would be in place for up to 10 years, because it would take that long to build up additional:
- Gas production capacity, elsewhere in the world, to replace Russia's 200 bcm/y of pipeline gas.
- LNG production plants and sending ports
- LNG carriers; average capacity 170,000 cubic meter of LNG
- LNG receiving ports and gasification plants
- Connections to existing onshore pipe systems, all while:
1) EU inflation would be off-the-charts
2) EU exports would dwindle.
NOTE: The above production and infrastructure build-ups would be in addition to what is required for the projected world-market growth of LNG
Germany Weighs Extending Nuclear Plants Lifespans In Major Russia-Inspired Reversal
BY TYLER DURDEN
As fighting involving Russia and Ukraine enters its sixth day, Germany is starting to reconsider its decision to dial back its reliance on nuclear power in an effort to secure its energy supply, which is presently dependent on natural gas imports from the Russian Federation.
Economy Minister Habeck
Reversing an earlier policy adopted under former Chancellor Angela Merkel, Germany has decided to extend the lifespan of its remaining nuclear power plants, according to Economy Minister Robert Habeck.
It's part of a broader plan for Germany to derive 100% of its energy from "renewable" sources by 2035.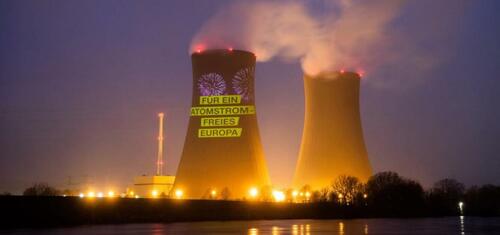 Previously, Germany had planned to shutter its nuclear plants by the end of 2022.
Isar 2, Emsland and Neckarwestheim 2 remain the last nuclear plants that produce power in Germany following the country's decision a decade ago to phase out nuclear power in the wake of Japan's disaster at Fukushima.
Here's more from Reuters:
Germany is weighing whether to extend the life-span of its remaining nuclear power plants as a way to secure the country's energy supply in the face of uncertainty over Russian gas supplies, the country's economy minister said.

Asked by German broadcaster ARD whether he could imagine letting nuclear plants run longer than planned under Germany's exit plan, which foresees shutting down the country's three remaining plans by the end of 2022, Robert Habeck said:

"It is part of my ministry's tasks to answer this question. I would not reject it on ideological grounds - but the preliminary examination has shown that it does not help us."
The three plants are owned by German energy firms E.ON, RWE and EnBW, respectively. Habeck said the three operators have already informed the government that extending their lifespans won't impact energy production during the 2022-2023 winter season.
"Because the preparations for the shutdowns are already so far advanced that the nuclear power plants could only continue to operate under the highest safety concerns and possibly with fuel supplies that have not yet been secured," Habeck said. "And that is certainly not what we want."
Here's how Habeck described Germany's other plans for improving its reliance on renewables to 100%, according to Reuters.
According to the paper, the corresponding amendment to the country's Renewable Energy Sources Act (EEG) is ready and the share of wind or solar power should reach 80% by 2030.

By then, Germany's onshore wind energy capacity should double to up to 110 gigawatts, offshore wind energy should reach 30 GW - arithmetically the capacity of 10 nuclear plants - and solar energy would more than triple to 200 GW, the paper showed.
As CNBC pointed out, both Germany and Japan have recently reclassified nuclear power as "clean" energy, opening the door to potentially trillions of dollars in ESG-driven investment.
German Finance Minister Christian Lindner has described renewable electricity as "the energy of freedom".