The thermometer record shows warming starting long before the 1950's
Fahrenheit was the first person to invent an accurate thermometer in 1714.
Prior do that time, thermometers were inaccurate, say +/- 2 F, and not suited for keeping records of weather temperatures.
The below graph starts in 1880.
At that time accurate thermometers, say +/- 0.5F, or +/- 0.1F, were in general use in testing stations 
We had warming from the 1910's to the 1940's and then cooling from the 1940's to the 1970's, and then warming from the 1980's into the 2000's, where the temperatures have peaked, as they did in the 1930's, and a cooling trend has appeared.
Here's the U.S. chart (Hansen 1999) showing warming and cooling before 1979, and then the UAH satellite chart showing the warming and cooling from 1979 to present.
As you can see, there is no unprecedented warming in North America comparing today with the past.
WARMING HAPPENED BEFORE, BUT CLIMATE MANIACS DO NOT WANT TO LOOK AT DATA
You don't have to go back hundreds or thousands of years to find a period that was just as warm as today.
The Early Twentieth Century was just as warm as today, as recorded in numerous written temperature charts from all over the world, and CO2 ppm WAS MUCH LOWER.
Hansen 1999:
The Hanson chart has data including 1998
The below UAH chart has accurate satellite data to February 2023
UAH: University of Alabama, Huntington Campus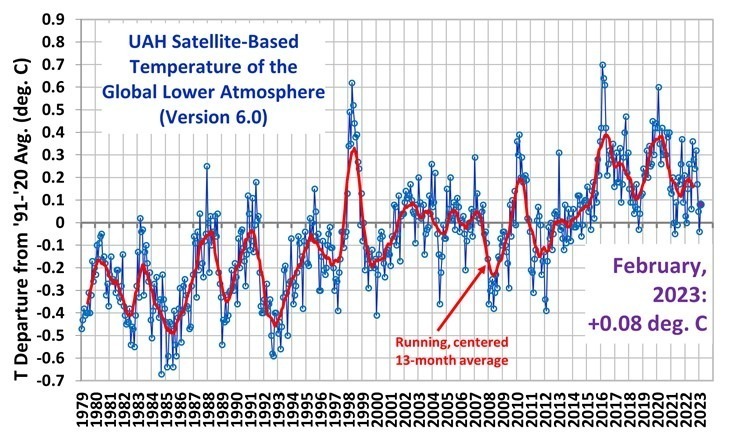 Combined, these two charts represent the real temperature profile of the Earth, where it was just as warm in the recent past as it is today.
The CO2 has had no visible effect on temperatures
There is much more CO2 is in the air today, than was in the air in the Early Twentieth Century, yet it is no warmer today that it was then.
This is the BIG LIE the climate-change alarmists tell.
It is refuted by the written temperature record, which is available to just about anyone who cares to look.
One has to wonder why all the alarmist experts, and some of those on the skeptic side, continue to ignore the Early Twentieth Century, and the bastardization that has taken place to erase the Early Twentieth Century from memory.
The written temperature record and the Early Twentieth Century temperatures repudiate the Catastrophic Anthropogenic Global Warming (CAGW) claims of the Alarmists.
That's all you need, as proof that CO2 has no discernible effect on the Earth's atmosphere.
Almost 100 years of increased CO2 going into the atmosphere, yet it is no warmer today than it was then. What's left to say?